Question
You have Pending and Failed Orders for DoJiggy Engage and wish to request payment.
Answer
Pending and Failed (Declined) Orders are not likely to complete without follow-up on your part. To request Payment, do the following...
Click WooCommerce->Orders from the main Menu
Click on the Order Number/Name you wish to collect payment for

In the Order actions section click the drop-down and select "Email invoice / order details to customer"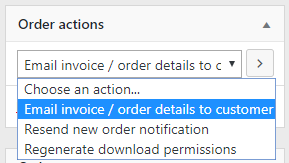 Click the Action button to send the email

When your constituent receives the email, they can click on the provided link to make payment. Doing this will automatically complete their order in the WooCommerce->Orders section.