Question
You have received an order (or donation) on your store and you wish to communicate details about the order with your constituent.
Answer
Notes can be a powerful tool for communicating with constituents. Need to add a tracking number for shipping? Is stock delayed? Add a customer note, and they are automatically notified.
The Order Notes panel displays notes attached to the order and can be used for storing event details, such as payment results or reducing stock levels, or adding notes to the order for customers to view. Payment gateways will also add notes concerning the transaction number and order status changes.
To Add a Note
Go to WooCommerce->Orders and click the Order Number/Name to view the Order Details
On the right is the Order Notes section.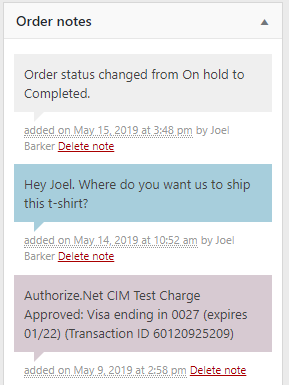 The following note types are possible:
Purple: System status notices, such as payment gateway details.
Grey: General status updates, such as status changes or private notes. Customers do not see these notes, but may receive notification of them, e.g., When status changes from processing to completed, an email may be sent (depending on your settings).
Blue: Notes to the customer. Customers receive notes via email, but can view them by viewing an order, or using the WooCommerce order tracking page.
To send a note to a customer on an order, enter the note, then select: Note to Customer > Add.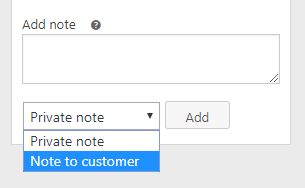 Delete a Note
To delete a note, simply click the Delete Note link.

For complete Details, please see WooCommerce Order/Customer Notes.