Question
You would like to create a Google Analytics account so that you can see visitor and traffic analytics. This service is recommended and included in your Pro Store.
Answer
To start collecting basic data from a website or mobile app, please follow these instructions.
Create or sign in to your Analytics account:
Add users
You can add as many users as you need. To add a new user to an account/property/view:
Click the Admin Tab
Select your website under Account
Select User Management
Enter the email address tech@dojiggy.com
Add the following permissions: Manage Users, Edit
Check the box Notify this user by email.
Click Add.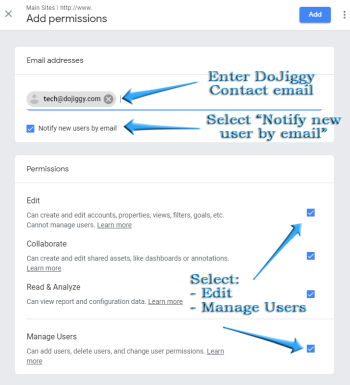 That's it! Once you give us the access we can then finalize the setup.