Question
Your Pro Store has been delivered to you with the basic menu items and navigation options to get you started. If you are going to expand your site by adding pages you will need to understand how to navigate to them.
Answer
Navigation menus allow you to present a site structure to your users. They help users find information and browse through different sections of your website. You can manage menus in WordPress by going to Appearance->Menus in your WordPress admin dashboard.
This will bring you to the Edit Menus screen which is divided into two columns. The column on your left has your pages, categories, and custom links tab. The column on the right is where you add and adjust menu items.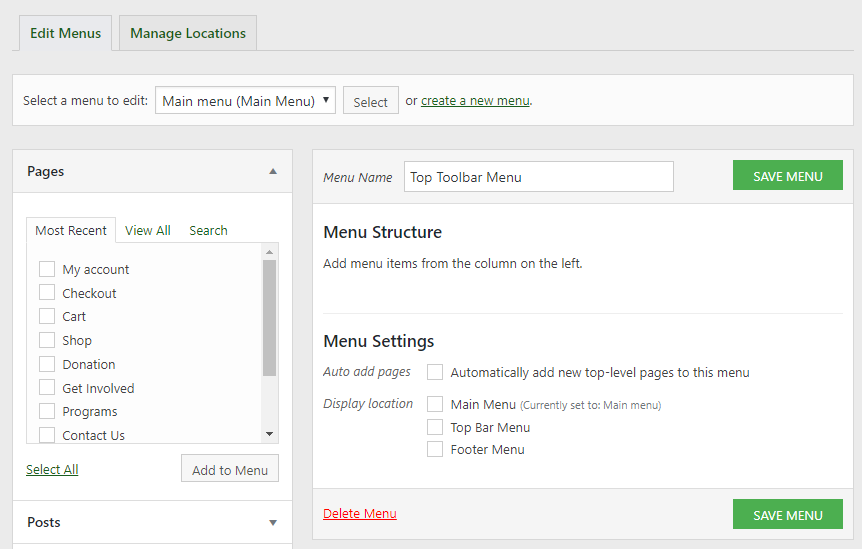 You can see that the Menus have already been set up for you. There is a Main menu and a Footer menu.
To edit a menu, you need to first select it. Select the menu you want to edit from the drop down and click the Select button. When you select a Menu to edit, you will see the menu structure and how the different levels relate to the navigation on your website.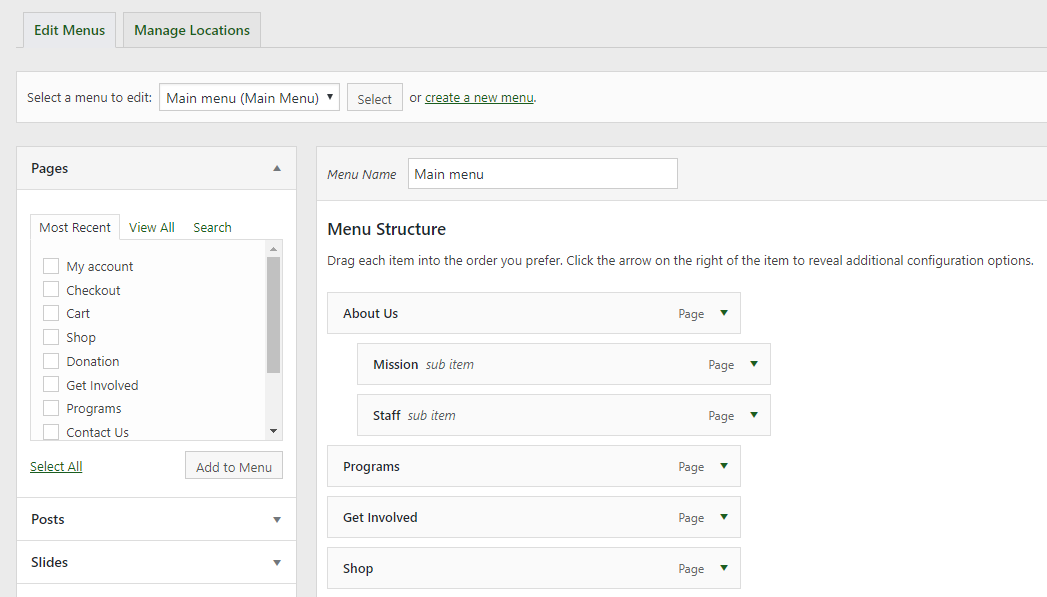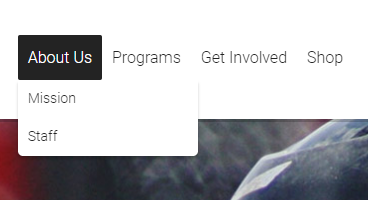 Adding a Menu item
You can add different link types into your menu, Pages, Posts, Projects, Products, etc.
To Add a Page to your Menu, do the following.
Locate the pane entitled Pages.
Within this pane, select the View All link to bring up a list of all the currently published Pages on your site.
Select the Pages that you want to add by clicking the checkbox next to each Page's title.
Click the Add to Menu button located at the bottom of this pane to add your selection(s) to the menu that you selected.
Click the Save Menu button once you've added all the menu items you want.
Moving a Menu item
To Move a Menu item, simply click and drag it to the new location.
Deleting a menu item
To Delete a Menu item
Locate the menu item that you want to remove in the menu editor window
Click on the arrow icon in the top right-hand corner of the menu item/box to expand it.
Click on the Remove link. The menu item/box will be immediately removed.
Click the Save Menu button to save your changes.
For a full explanation of Menus, click here for the WordPress Menu User Guide