Question
Participant Can't Login. A participant has notified you that they can't login to their Participant Control Panel (PCP) and you would like to know what you can do to help.
Answer
You as an administrator have access to the Participants profile and username and can assist in verifying all the basic information. In cases like this, verify that they are logging into the correct place. Describe the Login link just below the website banner, then ask them what username they are using. Verify the information by doing the following...
Go to People->Participants and start typing their name in the Filter.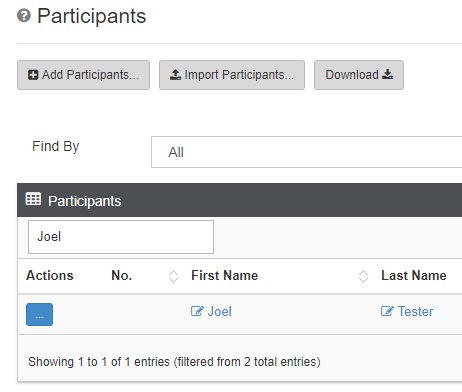 Click their name to get into their profile and verify that they are using the correct username. If it is something different, you can tell them what it is or change it to their preference.
Next, verify the email address.
Once those two things are correct, you can either change their password for them, or ask them to do a password reset from the login page.
If they are still having problems, you can Submit a Support Request from Help->Support, New Support Request. Send us the name of the participant and any error messages they may have gotten and we will review.

Note: If your Participant has been Locked out of their PCP, see this article: My fundraising participant is locked out of their account