Question
How do I delete test or previous year's participant & order data? You wish to delete last year's participants and other data. Or, you have test data in the system that you wish to delete before going live.
Answer
To delete participants, orders, teams, and/or products data from the system, click on Tools -> Clear System Data. It is best to complete this process before starting an event to clear old, unnecessary data from the system. Please also review the cloning option before completing this task.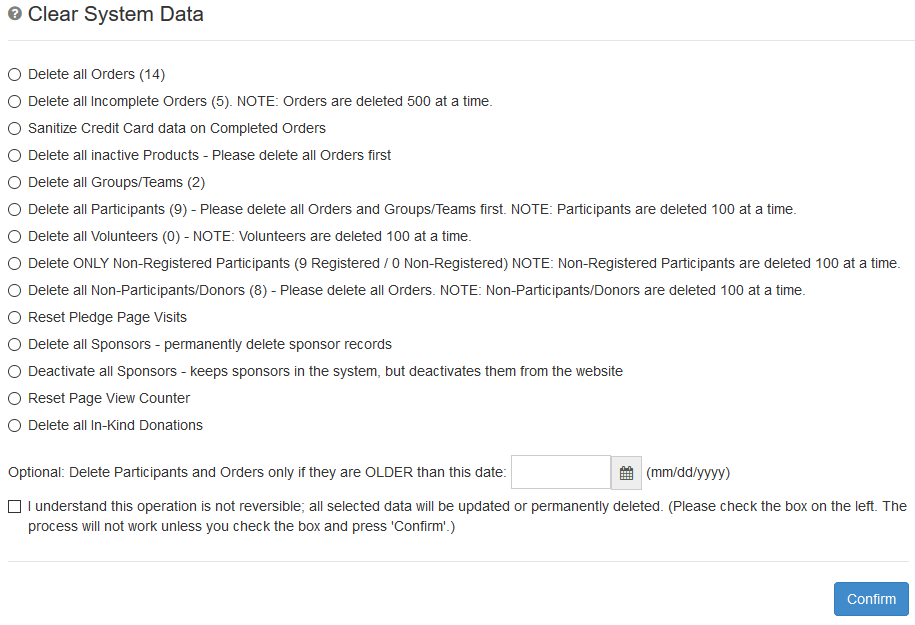 From this screen you can optionally delete each of these data categories.
IMPORTANT NOTE: Please remember, this operation is not reversible. It is NOT recommended to use Clear System Data once an event is in progress, as you risk losing vital information that can not be recovered once deleted. If you need last year's participant data for any other purpose, make sure to download and save it prior to deleting it. We cannot retrieve your data for you once it's been deleted.
For Participant and Order data ONLY, you can also delete data older than a specified date. If you are using a date, you need to make selections in at least three areas:
The TYPE of data,
Enter a date in the Date filter box, and
Enter YES in the box indicated.
If you do not complete all three steps including the optional date before clicking Confirm, the date range delete will not work and you will loose all data.